What is Glaucoma?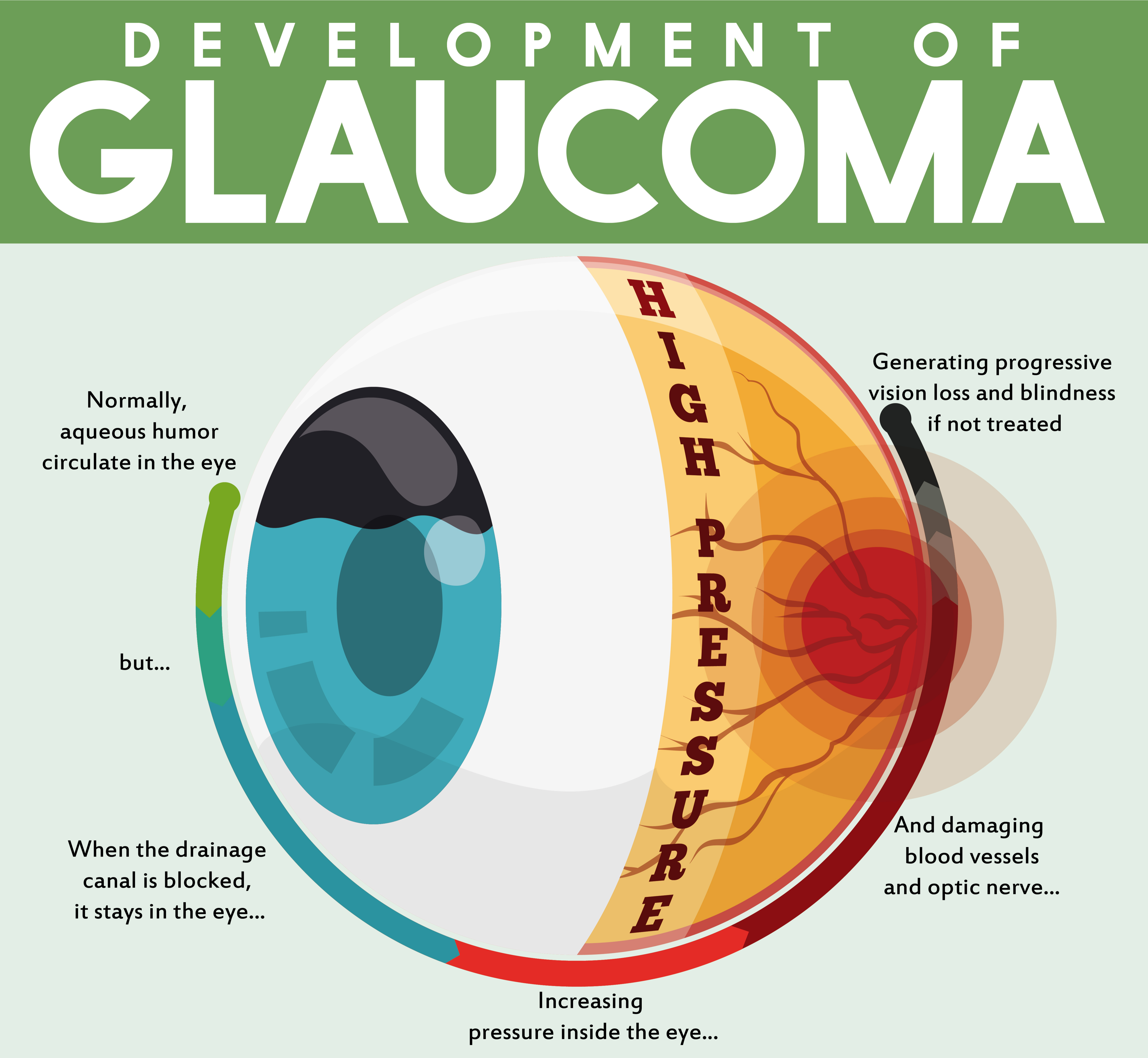 Glaucoma is an eye condition caused by increased pressure in the eye that can destroy the sensitive nerve fibers responsible for vision. Glaucoma is actually a group of diseases that damage the optic nerve. The optic nerve is responsible for connecting the back of the eye (retina) to the brain. Glaucoma is usually caused by an increase in the fluid pressure in the eye – either because of overproduction of fluid or when the drainage system of the eye becomes blocked. The higher pressure inside the eye can cause damage to the optic nerve, resulting in permanent vision loss.
Our doctors at Skyline Vision Clinic & Laser Center provide diagnosis and treatment of glaucoma in Colorado Springs.
Dr. James Burden explains glaucoma in the video below:
Symptoms of Glaucoma
Glaucoma is often called the silent thief of sight because there are no obvious symptoms with the most common type of the disorder: open-angle glaucoma. Most people do not detect a change in their vision until there has actually been a significant loss of vision. Unfortunately, vision loss from glaucoma is permanent.
Symptoms of Later Stage Open-Angle Glaucoma
Mild headache
Night vision difficulties
Blind spots in both eyes
Tunnel vision
Symptoms of Angle-Closure Glaucoma
With angle-closure glaucoma, there will be a sudden increase in eye pressure. This is a medical emergency because it can destroy vision very quickly. Symptoms may include:
Blurred vision
Severe eye pain
Nausea
Halos around lights
Severe headache
Dr. James Burden hosted a Glaucoma Webinar that you can watch here to learn more about this condition:
Types of Glaucoma
Open-angle glaucoma (most common): fluid builds up in the eye due to a blockage in the trabecular meshwork which leads to elevated eye pressure.
Angle-closure glaucoma: the iris blocks part of the angle of the eye so fluid cannot drain properly. This leads to a sudden increase in eye pressure and is a medical emergency.
Congenital glaucoma: present at birth, the angle of the eye does not allow for proper drainage of fluid.
Secondary glaucoma: this develops as a complication of another eye surgery, injury, disease or other eye conditions.
Risk Factors for Glaucoma
Although glaucoma can occur at any age, the risk of developing glaucoma increases dramatically after age 60. Other risk factors for glaucoma include:
Family history of glaucoma
Presence of diabetes, heart disease or high blood pressure
Trauma to the eye
Certain eye conditions (thin corneas, retinal detachment, etc.)
Race (African Americans, Hispanics, Asians, Native Alaskans and Japanese are at higher risk)
Naturally high intraocular pressure
Remember, vision loss from glaucoma is permanent but can usually be prevented with early detection and treatment. That means that regular eye exams are especially important for people over age 60 or those in other high-risk groups.
Glaucoma Detection
In most cases, glaucoma can be detected during routine eye exams. Special instruments are used to check the fluid pressures in the eye and a magnifying lens is used to examine the drainage channels for proper fluid outflow.
Even if you are not experiencing any vision changes, it is very important to have regular eye exams so your doctor can identify these types of silent eye conditions. Stay proactive with your eye health: schedule an eye exax today, especially if you suspect you might have glaucoma.